Here are a few tips to keep your pooch calm
With the 4th of July approaching, here are a few things you can do to keep your fur child calm during the fireworks show:
1.  If you're at home, create a safe environment for your dog during the fireworks. Perhaps in her crate with a chew toy. You could even play some music in the background.
2.  If you're somewhere else, give her a treat or her favorite toy during the fireworks. This will make her feel happy and may take some of the attention off of the loud noise.
3.  Stay calm yourself. If you freak out, so will your dog. If your pup begins to go crazy during fireworks try to stay calm and soothe her. Perhaps you can pick her up and hold her tight. This can help her feel more safe and secure.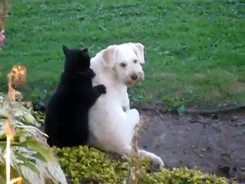 Please reload